Troop 55 Fund Raising Opportunities
Troop 55 has started a Can Drive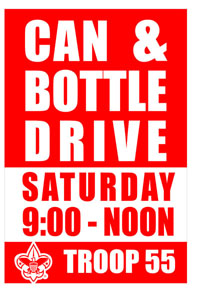 Troop 55 Can drives will be held at Cedar Heights School from 9:00 am -12:00 noon on the following Saturday Mornings. Can drives will need to be staffed by two adults to meet the two deep leadership requirement of the Scouts. We would like patrol leaders to sign their patrols up for open dates. (See below)
Please help get the word out to friends, neighbors and co-workers. They can bring all redeemable pop cans plastic bottles and glass bottles to cedar Heights School on any of our eight dates.
90% of the money received from each can drive will be divided equally among the Scouts who worked that event. 10% of the money will go to the troop. (as decided by P.L.C meeting)
Thanks for helping get the word out via facebook and other social media.
Any questions please e-mail Jan at janmord007@gmail.com
Can't get your cans to the school?
Pickup is available. Click
here
for details.